M&A announcements (such as this, this or this) are incredibly rich with data. In addition to listing the buyer and sellers, these announcements often contain advisor, target size, and valuation data.
However, when it comes time to searching for and isolating specific past announcements that are relevant to your client or industry, the search process can be incredibly difficult.
For example, what if you're interested in searching for and identifying all past M&A announcements for 'glue' or 'coffee' or 'tractor'.
Googling is the natural first solution – however with countless repetitive articles per transaction (try identifying the original Microsoft acquisition announcement of LinkedIn as an example), plus the rest of the internet to search through – there's simply too much noise muddying results to uncover relevant deal announcements efficiently.
Given this, we've just released a new Mergr feature focused solely on discovering acquisitions of interest by keyword searching the contents of their original M&A press releases.
To jumpstart this database, we've painstakingly extracted the text of 27k unique press announcements and have combined them with a user friendly search experience to help users rapidly dig through acquisition announcements of interest.
So, if you've been tasked with identifying super niche acquisitions (think press releases with 'catheter', 'adhesive', 'embedded computing' etc.) or looking up announcements containing competitors, advisors, partners, and more – the Mergr M&A Announcement Search feature may be especially useful and time saving.
In addition to extracting the text, we've also broken out the acquirer, target, deal value, and soon to be multiple info (if available).
Key features of M&A Article Search on Mergr
One article per deal (versus as many articles per deal as we can find). Unlike Google, we are not after all articles on a deal, just the primary announcement. So no, we haven't diluted the database with 20 articles on Microsoft's acquisition of LinkedIn – we just have this one.
All announcements weighted equally. We feel all transactions are noteworthy, so whether the deal is multimillion, multibillion – or with terms not disclosed, we do not overemphasize deal size when searching. That said, you can sort or filter by deal size (if deal size is available).
27K announcements at launch. We've seeded the database with 10s of thousands of articles to start and will be adding hundreds more every week (both recent and historical). Most of the 27K are from the past 3 years.
Just the original source. We work hard to pinpoint and capture the initial announcement or press release – direct from the acquirer. Like this or this.
Every announcement enhanced with Mergr data. In addition to keyword searching the announcements themselves you can also filter by size, sector, geo, date, deal type, and more. For example, we've tagged 'PE' vs 'Corporate' acquisitions, so if you just want to keyword search 'PE' acquisition announcements, you can easily do so.
So how does it work? Just like Google – but with actual results.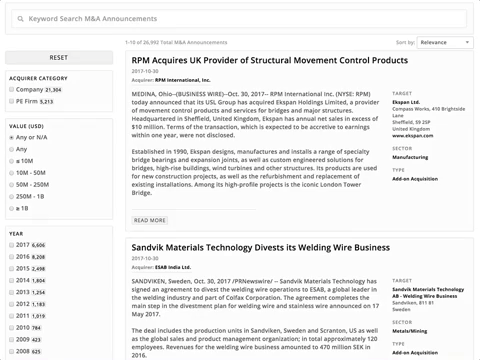 This is just the beta release of this feature.
You can instantly check it out by signing up for a 7-day free trial today.
If you're a former Mergr user and would like to try it – email us, and we'll be happy to start a new (no obligation) trial as well.